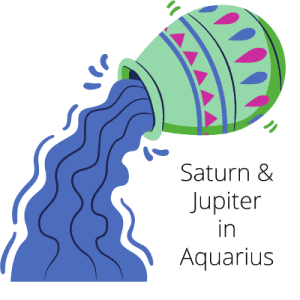 Here we are at the end of 2020 and Saturn and Jupiter have changed signs. Both have moved from Capricorn and moved into Aquarius. Saturn is particularly strong in Aquarius and Jupiter is stronger than he was in Capricorn. Watch the VIDEO 2021 forecast for All Signs – Saturn & Jupiter in Aquarius below.
The Sign of Aquarius Is Spotlighted
My friend and colleague Channing Ayers and I do this together and we go into a lot of detail, especially for Aquarius rising sign, Sun, and Moon as this sign will be affected the most. We discuss what it means to have Saturn and Jupiter in the ascendant, with the Sun, or with the Moon.
2021 Forecasts for All Signs
Then we talk about the other fixed signs, Taurus, Leo, and Scorpio as they are affected the most after Aquarius. Finally, we discuss all of the other signs because, of course, all other signs are affected too. What areas of your life will be most strongly manifested, whatever house in your birth chart is ruled by the sign of Aquarius.
Jupiter in Aquarius will also be manifesting the Aquarius house significations and the houses ruled by the signs of Aries, Cancer, and Libra. Check those houses in your birth chart and see what areas of your life will be activated.
Astrological remedies and insights on how to deal with any of the difficult effects of Saturn and Jupiter in Aquarius for some of the signs are included. Saturn is not only in his own sign but in the sign that is his source of power (moolatrikona).
VIDEO & Timestamps – 2021 Forecast for All Signs:
RELATED:
2021 Forecast for the United States
Jupiter & Saturn in Aquarius Begins 200-Year Cycle in the Air Element
The Sign of Aquarius in Vedic Astrology
The Sign of Aquarius and the Nature of the House Lords
Feeding the Crows My Favorite Saturn Remedy