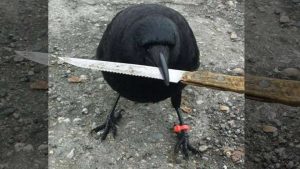 My husband and I were at CNN online looking for info on the fires burning around Orange and Riverside Counties (where we live) and we noticed the "Strange News" tab. Naturally, I clicked on it and immediately saw this story about a crow named Canuck.
Canuck is a Canadian crow and quite an accomplished thief according to the man who raised him. Canuck stole a knife from a crime scene. How cute! I thought you might enjoy it.
Why am I talking about a crow? Because Saturn (and Rahu) rule crows and because they are so intelligent, curious, and funny birds. Feeding the crows is a great Saturn and/or Rahu remedy (both Saturn and Rahu rule nature and wild animals). If you want to know more about that, just follow the link below to the article I wrote about my experiences with feeding the crows on Saturdays.
Here is the link to the CNN story on Canuck: https://www.msn.com/en-ie/news/offbeat/crow-is-accused-of-stealing-knife-from-crime-scene/ar-BBtxKgY
Related: Feeding the Crows – My Favorite Saturn Remedy
SPECIAL OFFER on Whole Life Consultation (ending on August 31st)
If you would like to get remedies for your planets, including gemstone recommendations for your health, get the Whole Life consultation. My recommendations are the Vedic remedies of mantras, gemstones, and feeding the crows, but I also suggest books, coaches, therapists, courses, writing and other activities including how to use the Planetary Hours to intensify the remedy.
The Whole Life consultation is still on special at 20% OFF making it $185 normally priced at $231. It's 90 minutes long and you get a recording. We cover career/purpose, relationship, health, spiritual path, timing and you get a free Horary question with it too.