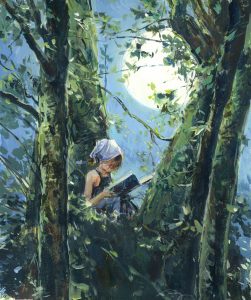 The Moon is the Mind and the Moon is a perspective planet that "looks all around" by using the imagination. But what if you are feeling stuck and can't see a better way? What if you are having a Saturn transit over your Moon, on either side of your Moon, or opposite your Moon?
Does it seem like you can't see the positive side of anything right now, or if you do get yourself to a better place mentally, it's not very long before you're down in the dumps again?
One of the best ways that I know of to help your Moon (Mind) to get unstuck, is by reading a good book. I know, you've heard this a million times before, but astrology can explain why it's a good idea in a different way.
Similar to doing affirmations, reading a book is feeding your mind with ideas and stories that help you to believe that your life can improve (and see HOW), that nothing lasts forever – even bad times when nothing seems to grow no matter what you do.
Of course, there are thousands of "How To" books on every topic under the Sun, but when you browse through a bookstore or a library and you let your intuition be your guide, have you noticed how you manage to find exactly the book you most need right now?
This is your Moon using it's natural receptivity and intuition to guide you to the very thing you need. I can't tell you how many times this has happened to me. Especially when I've been feeling disappointed in love.
A Short Story About A Book That Changed My Life
When I was in the Navy in my early 20's and stationed in a rather remote area in Maine (Acacia National Park), I liked to take long drives through the countryside on the weekends.
One day on one of those drives, I came upon a big barn that had been converted into a used book store. This place was huge, with loaded shelves of books towering nearly to the ceiling, but somehow I was lead to the book that would set me on the path to being a lifelong student of love.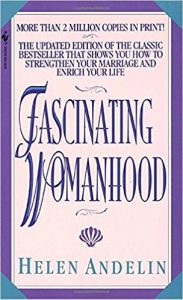 The name of the book was Fascinating Womanhood written by Helen Andelin in 1963. It's rather old-fashioned and the feminist side of me was even a bit appalled by it at the time (it's since been updated), but it gave me insights that explained SO much about why my love relationships didn't work.
This book revealed to me just how out of touch I was with my feminine side, how much I had disowned, even scorned that side of myself, and all of the mistakes I was making in my relationships with men (a LOT of mistakes!).
It was such a revelation! In the following months after reading it and thinking about my past relationships (I cried a lot), men started acting very differently towards me, I even received some marriage proposals! It was so magical, I was stunned, and I've been reading about relationships ever since.
A Wonderful Book & Body of Work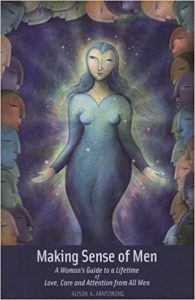 Lately, I've been reading more on the work of Alison Armstrong, a woman who has devoted 20 plus years to the study of men (and women) based on thousands of interviews and brain research.
The book I've been reading recently is Making Sense of Men, A Woman's Guide to a Lifetime of Love, Care and Attention from All Men. Short, simple, and yet profound (I think she's a Mars person because she has such a  logical, engineer-like mind).
I especially like the part where she talks about the difference between when a man is just sexually attracted to a woman and when he's "charmed and enchanted." Her chart on "Men-glish" profoundly changed my perspective on what I thought was going on when my husband says certain things to me.
Alison has an impressive body of work on this topic and you can learn more about her work at www.understandmen.com (she's having a big sale on CDs, books, etc., right now too).
What Books Have Changed YOUR Life? 
What have been the books that have changed your perspective and your ability to imagine better relationships or circumstances in your life? Have you read a book that profoundly changed the way you think about relationships? I'd love to hear about it! (Just hit reply to this blog post)
If you want to learn more about your feminine side and the best ways to find perspective when feel like you can't see in the dark, let me tell you all about your Moon! I'll even recommend particular books based on your Moon, the sign it's in, the house it's in, the influences from other planets, and more.
SPECIAL OFFER:
What Benefits Will You Get from Understanding Your Moon?
An understanding of your emotional experiences & how your Moon affects your love relationships (for women, the Moon is KEY)
Know what your deepest needs are and how to get them fulfilled on your own and in your relationships
How to ground yourself when you're upset to deepen and protect
your relationships
Learn to trust your intuition
Know your mental/emotional strengths and how to maximize them
Know your mental/emotional weaknesses and how to minimize them
Good Moon days of the month for you
The special power of your lunar nakshatra
Your temperament & what that means (angel, human, demon)
Your level of innate receptivity to the goodies in life & how to increase
your capacity to receive even more of the good that life has to offer
REPLY to this email, or email Karen@DivineTimeAstrology.com, by

December 20, 2017

 and you'll get this SPECIAL Moon Consultation for $135.00, a 

10% discount

 off the normal price of $150.00.