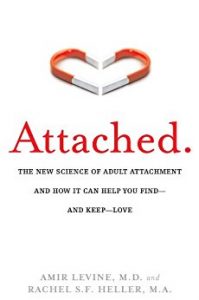 I was going to continue with Dennis Quaid & Meg Ryan, but I've been reading a book that has explained SO MUCH about what was going on in my first serious love relationship and current marriage that I HAVE to write about that instead! How did I not know about this before??
The book I'm talking about is titled Attached. The New Science of Adult Attachment and How It Can Help You Find – And Keep – Love by Amir Levine, M.D., & Rachel S.F. Heller, M.A.

Basically there are three attachment styles in relationships: Anxious, Avoidant, and Secure. Here is a very brief description of each one copied and pasted directly from their website:
The Anxious Attachment Style:
"You love to be very close to your romantic partners and have the capacity for great intimacy. You often fear, however, that your partner does not wish to be as close as you would like him/her to be. Relationships tend to consume a large part of your emotional energy. You tend to be very sensitive to small fluctuations in your partner's moods and actions, and although your senses are often accurate, you take your partner's behaviors overly personally. You experience a lot of negative emotions within the relationship and get easily upset. As a result you tend to act out and say things you later regret. If the other person provides a lot of security and reassurance, you are able to shed much of your preoccupation and feel contented."
The Avoidant Attachment Style:
"It is very important for you to maintain your independence and self-sufficiency, and you often prefer autonomy to intimate relationships. Even though you do want to be close to others, you feel uncomfortable with too much closeness and tend to keep your partner at arm's length. You don't spend much time worrying about your romantic relationships or about being rejected. You tend not to open up to your partners and they often complain that you are emotionally distant. In relationships, you are often on high alert for any signs of control or impingement on your territory by your partner."
The Secure Attachment Style:
"Being warm and loving in a relationship comes naturally to you. You enjoy being intimate without becoming overly worried about your relationships. You take things in stride when it comes to romance and don't get easily upset over relationship matters. You effectively communicate your needs and feelings to your partner and are also strong at reading your partner's emotional cues and responding to them. You share your successes and problems with your mate, and are able to be there for him or her in times of need."
Within the book are three quizzes where you can find out what your Attachment style is and what the attachment style of your current, or past, partner is. It's amazingly detailed and SPOT ON, as the British say.
Astrology & Your Attachment Style
I've been thinking about the Astrology of Attachment the whole time I've been reading the book, of course, and it's pretty clear how these three styles of attachment would show up in the birth chart.
The Moon is the main planet that will show it, but there are several other astrological indications in the birth chart that will reveal details on your attachment style. Not surprisingly, Rahu and Ketu, the north and south nodes of the Moon are key, and so are Venus/Mars aspects and Venus/Saturn aspects.
A colleague, Channing Ayers, and I will be discussing these planetary combinations, along with birth charts demonstrations, on video in a couple of weeks. If you would like to have us look at YOUR birth chart, the first 10 people to send me their complete birth data will get a short Attachment Style free reading from us! I'll send you more details next week, but you can go ahead and send me your birth details now (day, month, year, place, and time)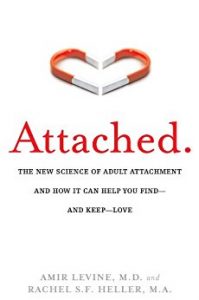 I highly recommend you get this book and take the quiz, it's quite an eye-opener. Of course, they tell you how you can become more of a Secure Attachment type, especially if you have an Anxious love style. Avoidants are harder to help because they usually don't think they have a problem, but research has shown that there is hope for them too, if they want it.
Interestingly, Anxious types are often attracted to Avoidant types and Avoidant types prefer the Anxious types! The science on what happens when they get together is something you will recognize right away if you've ever had this kind of relationship. Lots of drama and PASSION, but sadly, not the kind that usually results in a happy ending.
More on this topic next week!
THE READY-FOR-LOVE READING:
If you'd like to find out what your attachment style is and how you can make the most of it and/or become more secure in love, get the Ready-for-Love Consultation and find out everything you need to know about your love karma, what your future partner will be like (there will be clues as to their Attachment Style too), where to meet your partner and when you are likely to meet the love of your life. 
If you have been unhappy in love, find out what is blocking love for you and what to do about it. When your love periods are and the best ways to make the most of them.
Get the Ready-for-Love Consultation for $139.92, 12% OFF the usual price of $159 for single people and for $183.92, 12% OFF of $209 for couples (if you will both be attending the consultation)! To get this price, contact me and set-up your appointment by July 31st, there is still one more day left of this special.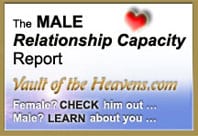 THE RELATIONSHIP CAPACITY REPORT: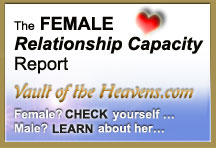 If you're not ready for the full Ready-for-Love consultation, you can get the Relationship Capacity Report for only $14.95. It doesn't directly relate to Attachment style, but it will tell you everything you need to know to be happy in love.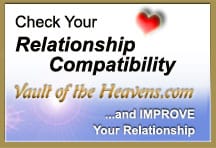 THE COMPATIBILITY REPORT:
If you're not ready for the full Ready-for-Love consultation, you can get the Relationship Compatibility Report for only $14.95. It doesn't directly relate to Attachment style, but it will tell you if you and your partner have the compatibility to go the distance together. Based on the Vedic Compatibility technique used for 5,000 years in India to arrange lifelong successful marriages.