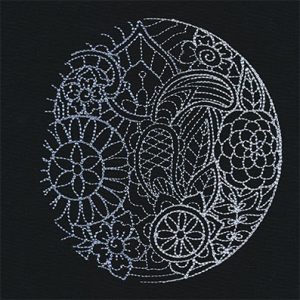 This week, we continue with the natal Moon phases and what they mean. If you were born during the bright Waxing Gibbous Phase, which is considered to be very fortunate, then you are in a transitional phase in your spiritual journey through your many lifetimes.
The first three Moon phases before the Gibbous Phase are more instinctual and experiential, while the Gibbous phase is moving more towards conscious, deliberate action.
This is why "growth" and "analysis" are key words for this phase. If you were born during this Moon phase, you are concerned with value, and how what you are doing in your life, where you are going next, helps you to create meaning and value (meaning and value are concerns of Venus which is why the Moon is "exalted" in the sign of Taurus, a Venus sign).
Self-revelation is one of the results of of your constant questioning and evaluation of your own growth. Analyzing yourself helps to define who you are and who you want to project into the world. Self-knowledge is one of your highest values, and you are likely to love astrology for this reason :-)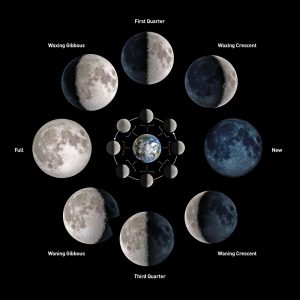 When you went into the "why" stage of childhood, you felt right at home and decided to stay there. You likely stand out in any group situation because you will ask questions until you understand the structure of any operation you are part of.
Perfecting what you have created and being efficient is another one of your core values. When you understand the structure of how something works, you take the working elements and create new structures promoting growth for yourself and others.
This is how you perform best, and you love being part of anything that brings growth, but have a hard time understanding that not everyone else does this too.
If you know what Moon phase the people around you were born into, you will understand them first and then your acceptance of who they are will foster their growth and help them find their place in the world (something that gives you joy).
The Monthly Transiting Moon & the Waxing Gibbous Phase
The monthly Waxing Gibbous phase of the Moon (when more than half of the Moon's face is showing on the right side) is a fortunate time to start anything new (not during the New Moon) as the Moon is bright and sheds light in the dark to help you find your way in manifesting your dreams in the concrete world. You can see what you need to do consciously, and then analyze and deliberately plan your next steps.
Waxing Gibbous Moon Phases For January, February & March 2018
January 26th until Full on 31st

February 25th until Full on March 1st

March 26th until Full on March 30th
SPECIAL OFFER:
The Ready-for-Love Consultation and what it covers (the Moon is THE most important planet in relationship, even more than Venus):
The Moon & Venus – the two feminine-energy planets and YOUR 

path to fulfillment

 (fulfillment comes through the feminine principal). How receptive are you to the good that your partner wants to give you; how willing are you to be influenced and even changed by your partner (in a healthy way, of course), and, if you are a woman, how magnetic you are in attracting a partner and how to cultivate your natural female magnetism if you're not currently attracting the love your heart desires.

Karmic Connections

 (Rahu and Ketu Contacts) – This shows past life connections, future karma and areas of life you will be involved in because of the relationship.
What's your type? Your partner profile. The psychological makeup of your partner, their general characteristics, if they are predominately masculine-energy, feminine-energy, or androgynous, and their general physical description.
Marriage  – Marriage chart (D9) comparisons to see if you will marry a particular person, what areas in your marriage will be strong and what areas will require more consciousness.
Timing – When marriage is most likely to happen, and if both people are in a love period at the same time (sometimes the timing is the only problem between two people).
Relationship Capacity – Are you or your partner the marrying kind, or not? If relationship is easy or hard for you, and what may be blocking love for you, or the relationship capacity of your partner (Read more about Relationship Capacity).
Vedic Compatibility Technique – This famous technique measures 15 areas of compatibility important for relationship longevity, purpose, productivity, and happiness. Though the Moon is the most important, I look at ALL the planets for compatibility (Read more about the Compatibility Technique).
Assertive Pressure – Do you have equal "assertive pressure" in the relationship, or is one person much more aggressive than the other? If you're you prone to affairs, or your partner is. If you tend to have abusive relationships, or if you use Mars energy inappropriately in the Venus arena, if you are too idealistic about love, or if you tend to mind your partner's business (this is a simple fix).
Relationship Yogas – Evaluation of any pertinent marriage yogas.
Muhurta (optional) – For choosing the best time to marry, consummate the relationship, buy a house together, etc.
Fertility Report (optional) – Used either as a form of birth control or to get pregnant.
If there is a question about whether or not you will actually marry a particular person, how the other person really feels about you, or a question of fidelity, then I would also do a Horary chart (FREE WITH THIS READING), as these types of questions cannot always be answered with the birth chart.
REPLY to this email, or email Karen@DivineTimeAstrology.com, by January 31st, 2018, and you'll get this SPECIAL OFFER Ready-for-Love Consultation for $143.00, 10% OFF the normal price of $159.00 (you also get a Free Relationship Capacity Report too – usually $14.95). 
If you're in a relationship and you both attend the consultation together, you get it for $188.00, 10% OFF the usual $209.00 (for couples, you get a Free Compatibility Report too – usually $14.95).