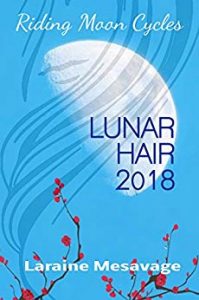 Back in February, I wrote an article on the misunderstood Void-of-Course Moon and how it is meant to be used in Horary astrology and not for everyday timing of events.
Well, I just found this book about hair care, cutting, coloring, conditioning, according to the phases of the Moon.
I've always been somewhat hair-obsessed, so when I saw it on Amazon, of course I had to get it. The name of the book is Riding Moon Cycles Lunar Hair 2018 by Laraine Mesavage. I bought the Kindle e-book version for only $3.99
In this book, Laranine describes how she came to study the cycles of the Moon in such depth and as a result of her research and testing; she now knows when it's the best time to get your hair cut to make it grow faster or thicker and when to cut it so it grows more slowly. She even has figured out when the Moon is in the best phase and sign for coloring your hair, perming it, and conditioning it. Now that is some amazing fine-tuning.
She also discovered that the Void-of-Course Moon is NOT a good time to cut, color, or do anything like that with your hair, including a couple of hours before and a couple of hours after the Void-Moon is no longer void. So, maybe it does have some applications outside of Horary astrology. There is much to be researched and tested in astrology!
I've decided that I'm going to use her book and test it out for myself. I always thought that it was the hair stylist that was the most important part of getting a really good hair cut, but it turns out that if you have a good hair stylist that you are happy with most of the time, then it's really WHEN you get a hair cut that matters the most. Even a great hair stylist can have an off day, most likely when the Moon is not in a favorable phase or sign.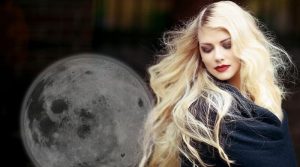 According to her book, this Friday, July 13th, after 12:00 pm, Pacific Time, is the BEST day for getting your hair cut this week. I'm going to schedule my appointment for this Friday and see for myself.
I would like to wait until next week (the best day is July 20th after 6:00 am, PST), but I have something special I'm doing this weekend that I want to be ready for.
If you are as obsessed with your hair as I am, it would be fun if you also tried out her recommendations according to what you are most interested in regarding your hair. Do you want to grow to grow out thicker, longer, or keep your cut longer (cut for slower growth); color it, perm it, condition it, or increase the vitality of your hair? There is a good day for that!
Follow the phases of the Moon and the signs that the Moon transits through using Laraine's book. She has a calendar showing the best days for the whole year of 2018 in this e-book.
Let me know what you discover, I'd love to hear about your results!
FOLLOW-UP SUPPORT SESSIONS AVAILABLE