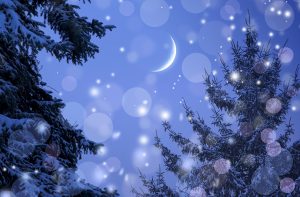 This year Christmas is on a Monday. Here in the states, this is a major winter holiday to celebrate the birth of Christ, a light shining in the dark for mankind.
The Moon is in the waxing Crescent phase and in the sign of Pisces. Pisces is the last sign of the zodiac and represents an ending.
For instance, my daughter is engaged and she and her fiance have moved into their first place together. Christmas is usually held at my house, but this year, she is hosting Christmas at her house for the first time. It seems perfectly fitting since she is all grown up now and is beginning to create a family of her own.
The waxing Crescent phase of the Moon is showing new growth which would be the beginning of a new phase of life for my daughter. Especially in the sign of Pisces – a fertile water sign – a very good time to begin something new!
The Waxing Crescent Phase of the Moon
The keywords of the waxing Crescent phase are fertility, growth, and upward mobility. This is the best time to commit to a vision for your future, to clarify your aspirations, and set concrete goals. A great time to be innocent minded and remember what it was like to be a child before you learned disappointment.
Remember how it felt on Christmas morning when you were a child? The excited expectation? Raise your glass in a toast today, and affirm your future success, because it's already on its way.
A few affirmations for the Crescent waxing Moon: I always spot opportunities and utilize them. New doors are always opening for me. I'm a magnet for success and good fortune.  
Mercury, the main planet of manifestation, is helping the Moon which is a great combination for a social day like Christmas. The Moon loves to connect people to each other and make them feel comfortable, happy, and seen for who they are. The Moon wants everyone to feel good and enjoy themselves.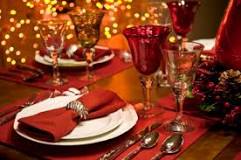 Mercury is the planet of fun, conversation, making sure all the details are taken care of, that everything comes together in the end (the management of details is a major part of making anything a success).
A perfect planetary climate for getting together with loved ones, telling stories that make everyone laugh, and enjoying good food, of course!
For those of you who celebrate it, I wish you a very Merry Christmas!
And, Happy Hanukkah which started yesterday and Kwanzaa which starts tomorrow too!