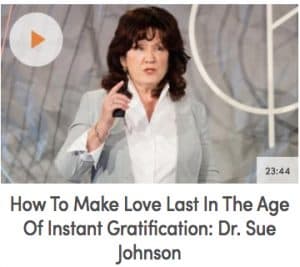 This is just a short little impromptu post to tell you about this video I just watched of Dr. Sue Johnson talking about Making Love Last In the Age of Instant Gratification on mindbodygreen.com.
It's all about the feeling of connection with another person and she goes into detail on how that looks at crucial moments in a couple's successful relationship. It's all in how you ask for what you need from your partner.
It touched me so deeply, I cried through a lot of it and ruined my eye makeup (it's my Pisces Moon, I can't help it). You may not cry, but I'm betting you'll have some "ah ha's" that could change your love life!
Here is the link to the VIDEO (it's only 23:44 minutes long): How To Make Love Last by Dr. Sue Johnson.
She's written a book too named Love Sense: The Revolutionary New Science of Romantic Relationships.
You can get it on Amazon (I did).