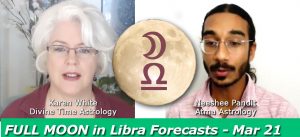 This month Neeshee and I talk about the Full Moon in Libra. The full Moon in Libra is on March 20th – 21st and very close to the Spring Equinox. The card that Neeshee drew for the Full Moon in Libra is the 3 of Diamonds. Spring is the season for cleansing the liver in Ayurveda, and we discuss what this means for your health.
Forecasts for Each Sign of the Zodiac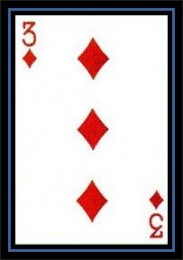 We do forecasts for each sign of the zodiac about the full Moon in the sign of Libra. Libra is an air sign and falls into a different house for each sign. The Full Moon GIVES and so it's an auspicious time. Neeshee also pulled a card for the Full Moon in Libra, AND, a card for each sign too. We discuss how that adds to your forecast.
The Critical 2nd House
The Full Moon in Libra is in the critical second house for Virgo Rising. This happens once a year and it's the most important transit position for the full Moon.
TIMESTAMPS are below each video below. The first video, Part 1 is Aries through Virgo and the second video, Part 2 is Libra through Pisces. Watch the forecasts for your rising sign (ascendant/lagna), your Sun sign, and your Moon sign to get a complete picture of what the full Moon in Libra will GIVE to you this month!
To get an Ayurveda consultation with Neeshee, find him at his website: https://www.atmaastrology.com/
His Email: Neeshee.pandit@gmail.com
RELATED: 
Libra Ascendant and Nature of House Lords
VIDEOS:
PART 1:  ARIES thru VIRGO
09:18 The 3 of Diamonds Card
13:38  Aries
18:26 Taurus
22:42 Gemini
27:01 Cancer
31:20 Leo
39:18 Virgo
PART 2:  LIBRA thru PISCES
00:00  Libra
06:26  Scorpio
11:27  Sagittarius
16:24  Capricorn
21:55  Aquarius
27:33  Pisces