Part 01, of the Divine Time Astrology Podcast, episode #03 – Western & Vedic Astrology are Essentially the Same! 
If you are an astrologer, an astrology student, or just interested in astrology, you will enjoy this podcast as Ernst Wilhelm, my favorite astrology teacher, and mentor, and I talk about how Western astrology and Vedic astrology are essentially the same.
Ernst Wilhelm is a world-reputed scholar, astrologer, and author. He has written four books on Vedic astrology and he studied and researched the great ancient texts Brihat Parashara Hora Shastra and Jaimini Upadesa Sutras which contain complete systems of scientific, systematic astrology.
If you want to study the great science of light that is astrology, Ernst has many astrology courses available.
SUMMARY of PODCAST Episode 03, Part 01:
Zodiacal Astrology-What Vedic Astrologers Most Need is the Tropical Zodiac, and What Western Astrologers Most Need is Vedic Techniques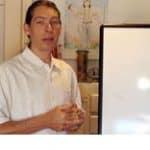 In this podcast episode, we talk about what Ernst calls "zodiacal astrology," which basically means that there is really only ONE astrology, that western and Vedic astrology is essentially the same, and everything else is just techniques used for particular purposes.
Ernst talks about his evolution as an astrologer and how he came to see through research and extensive testing, that the Tropical zodiac is the "correct" zodiac to use for sign-based techniques.
Whether you are an astrology student, or just interested in astrology, you will likely go away seeing astrology in a clearer way after listening to this conversation.
You Will Learn:
How Western astrology & Vedic astrology are essentially the same

Why there are differences in planet meanings and significations between Western & Vedic Astrology

The proper role of prediction in the professional practice of astrology

The Vedic relationship compatibility and capacity techniques and why we like to use these techniques so much in practice

And more…
LINKS:
To learn astrology from Ernst, he has Audio classes available at www.vedic-astrology.net, and Video classes at www.astrology-videos.com
MANUAL FEED:
Here is a manual feed if you want to subscribe to my podcast without going through iTunes: http://divinetimeastrology.com/feed/podcast/
Podcast: Play in new window | Download | Embed