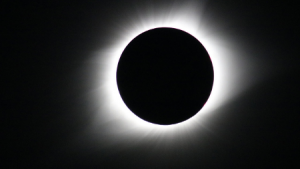 It's eclipse season again and Neeshee Pandit and I talk about the Cancer Solar Eclipse on July 2, 2019. It is a full eclipse, the Sun will be completely covered up.
This is late getting out, but you can still benefit from the recommended practices and rituals we discuss in the video below.
Eclipses Are Psychologically Experienced
Eclipses are much more of an internal experience rather than something we can predict with. We talk about the internal, psychological significance of the Sun, Moon, and Rahu in the sign of Cancer opposite Saturn and Ketu in Capricorn in the full Cancer solar eclipse on July 2nd.
Both Saturn and Rahu are the planets that 'look down' into our shadow in order to bring them to consciousness. Integrating our shadow with our conscious mind is what wholeness is that leads to enlightenment.
Rituals for the Eclipse:
During this Cancer Solar Eclipse on July 2, 2019: Meditate, pray, Hatha yoga, Pranayama, read, or do stream-consciousness writing in order to access the subconscious.
After the eclipse: Bathe and donate
Neeshee: https://atmaastrology.com
RELATED:
The Sign of Cancer, Stuff You Haven't Heard Before
The Surprising Role of Saturn in Relationships
VIDEO: