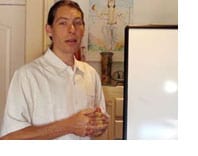 I was SO honored that Ernst interviewed ME! I've interviewed him several times (Blog Talk Radio & on my own Podcast) years ago, but I never expected that he would interview me.
Apparently, I've been his student the longest (about 10 years or so) and I'm the only student who has been giving readings full-time now for over seven years. He did this for me so people could find out what I've learned from him (and continue to learn more), what techniques I use the most, and what areas of life I can use astrology to help you with!
We have fun talking about astrology and other things too in this video. I don't mention every technique I've learned, just the ones I use the most because they are the most reliable and helpful for whatever you need.
He is seldom available for readings because he is so busy teaching, writing software, etc., therefore, he wants to send people to me and others he has listed on his website.
If you LOVE astrology like I love astrology, and want to learn what I've learned from him, you can go to his Vedic-Astrology.net and Astrology-Videos.com sites to sign-up, or you can learn how to use Tarot and playing cards to give amazing readings too at CardsofTruth.com. He and his wife, Srishti, are the creators of the amazing Vedic Astrology Software KALA (Kala means Time) that I use every day in my practice.
I really hope you enjoy it!
SPECIAL OFFER:
If you'd like to know what is going on NOW astrologically in all areas of your life, the Whole Life Consultation would be the best one to get. Your birth chart will reveal which of the 12 houses ruling over particular areas of life are being activated now and what themes, challenges, or changes you are dealing with and how to get the most from this period of time in your life.
The Whole Life reading covers love, career, spiritual path, health, transits and timing, and you get a free Horary chart with it too. Have the most interesting and unique conversation you can have on this planet that is all about you and your personal life blueprint.
If you are a astrology student, I can also answer your questions about what your astrological studies are revealing about your birth chart if you are confused about something you are learning.
EMAIL ME, Karen@DivineTimeAstrology.com and mention this article and you will get the Whole Life Consultation for $185, 20% OFF the usual price of $231. The reading is 90 minutes and you get a MP3 recording of our conversation.