I've started a LIVE Webinar Tutoring/Mentoring Vedic Astrology Study Group for students studying Ernst Wilhelm's & Ryan Kurczak's beginning courses. I'm calling it The Astrology Lab for short.
This study group class is an online, weekly, live webinar format (video, audio and with screen-sharing so you can see the charts under discussion). Get the details below.
The Beginner Classes at Astrology-Videos.com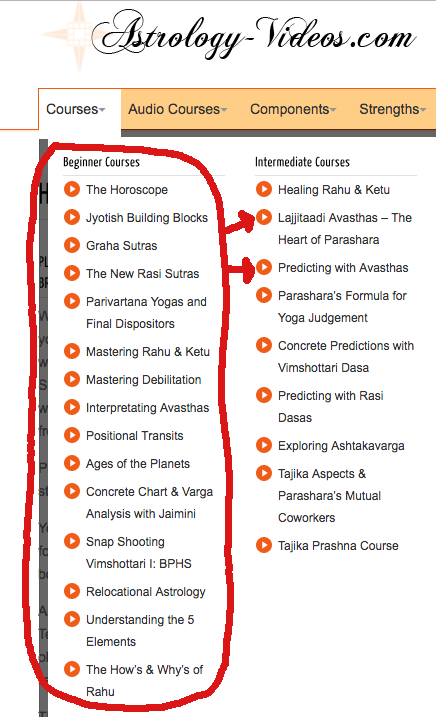 We are starting with Ernst's beginner courses at Astrology-Videos.com. If you are a student in Ryan Kurczak's Astrology Apprenticeship Program, or if you are buying his individual beginning astrology courses, you are welcome too. 
We will go through all the courses under the Beginner Courses tab (see snapshot to the left).
After we have done that, we will thoroughly study the AVASTHAS so you have a complete technique you can use to give an excellent reading.
The Avasthas of the planets is a 'bread and butter' technique used regularly in natal chart readings. We will practice using this technique on plenty of natal charts. 
Mastering this technique will significantly increase your confidence in giving a helpful and transformational natal chart reading.
What You Will Get in The Astrology Lab
You will get your questions answered in real time
Quizzes in class to gauge your depth and breadth of understanding
Study materials too, such as short video demos and Technique Reference Sheets
Community with other students leading to friendships and collaborations
Hands-on application and

lots of practice

reading charts (this is where your wisdom and own unique experiences in life make the astrology your own)
The confidence and skill you need to read natal charts 
Bring charts to the study sessions so everyone can learn from your questions. I will provide charts for study too. Being part of a live study community will accelerate your knowledge of astrology whether you decide to become a professional astrologer or not. See Privacy & Security note below in yellow box regarding using your own personal charts in class.
If you plan to be a professional astrologer, I will discuss the business side of astrology (the mentoring part) too. As of this March 2019, I will have been a full-time astrologer for eight years. There is much to share about working with clients and making a living as an astrologer. Including what I would and wouldn't do if I could do it over!
Privacy & Security
If you want to use your own birth chart in class, realize that future students may see it. I will not be using the class videos for anything except for the Astrology Lab. Future Astrology Lab students and current students can go back to watch previous classes.
A Friendly Learning Environment
If you have been in learning environments with judgmental teachers who ridicule your questions and are too dry and abrupt with you, know The Astrology Lab is not like that. Bring a curious mind and a sense of humor, and we will have a great time while we learn.
I will do all that I can to encourage and support you on this fantastic journey. I mean, how lucky are we to get to study this incredible knowledge?! 
What You Need to Join the Study Group
You'll need to be enrolled at Ernst's site Astrology-Videos.com, or in Ryan Kurczak's Astrology Apprenticeship Program, and starting the Beginner Classes. I won't be teaching these classes from scratch; I will be tutoring and providing a live webinar study format based on these classes – you bring your questions, charts, etc. We will be going in the order of the courses as they are listed. If you've already taken some of the beginning classes, you will get a chance to review, test your knowledge, and contribute your experience.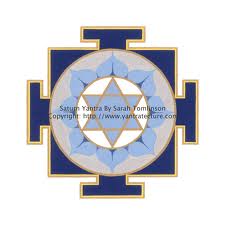 You need to get Kala software if you don't already have it. You will also need a computer with a reasonably updated operating system and a fast internet connection. If you can watch Netflix and YouTube videos, your system is quick enough.
We will use the ZOOM platform, and I will send you the Zoom invitations each week. All you'll have to do is follow the prompts and Zoom will download an app to your computer that will allow you to get into the live webinar class. Your computer will need a camera so we can see each other face-to-face (and the other students in the class too). If you prefer to not have your face recorded on video, you can still attend the class live but you'll need to "hide" your video. This is easy to do, you just press a button. Your voice can be heard, but your face won't be seen.
If we get a lot of people joining the class, we will split the group into two, and I will open up an additional day in the week to meet.
WHEN & WHERE We Start
The next group semester will start on JULY 6, 2019 at 11:00 AM, Pacific Time, though you can join at any time.  You can register for the class between now and then by emailing me at Karen@DivineTimeAstrology.com. 
Your Investment
It is a MONTHLY subscription for $97 for 60 to 90 minute weekly sessions. This a good deal because you will be getting at least four live sessions (90 minutes to 2 hours long) a month for this price. I charge $67 for 60-90 minute individual tutoring sessions which would come to $268 a month for weekly meetings.
We will take a periodic breaks about every eight weeks for a month. We also take off for major holidays too. How long the Astrology Lab will go on depends on how quickly we progress through the courses. It will likely go faster for the simple stuff and a little slower with the more complex concepts.
If you can't always make it to the class sessions live, there will be recordings available so you can catch up. You can send me your questions before the class, but class attendance and participation are required to get your questions answered. 
YOU CAN EMAIL ME: Karen@DivineTimeAstrology.com if you have questions. I'm excited to get started and hope to see you there! 
"You are an excellent teacher. Nobody teaches how to do the consultation, how to deliver bad news to the client. You are teaching that and that is the most important part. You can learn astrology from books, you cannot this part from books. You have years of experience and you giving it out to the students. This is invaluable. You are also very patient with the students and patiently explain things when they have a question. I highly recommend you to any astrology student." –Chitra